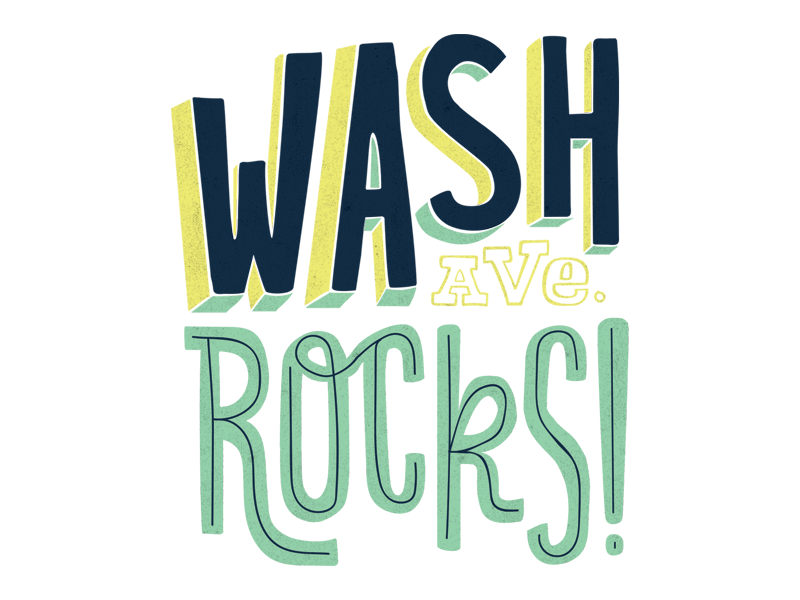 The Washington Ave. Prospect Heights Association represents merchants along and around the Washington Avenue business corridor along Brooklyn's Crown Heights/Prospect Heights border, working to organize events, promote local businesses, and beautify the neighborhood. We have a long history of working with organizations that support and improve their communities, and we were thrilled about the opportunity to work on this branding overhaul.
Our first order of business was to create a memorable look for their annual street fair, Wash Ave Rocks!. Using bold, playful hand-lettering in a unique color scheme with an illustration of Washington Avenue's iconic architecture, we created a versatile identity system for this event. We applied these elements to save-the-dates, signage, and a splashy single-page site where visitors and potential vendors can learn more and sign up for the fair. Our logo refresh echoes this identity, maintaining the shopping bag shape in a cleaner, streamlined form that features the funky "W" from our other materials.
There's more to come in our work with Washington Ave. Prospect Heights Association! We'll be updating this page as we move forward with working with this important community organization.
PACC has worked with McMillianCo. back in 2005 with Fulton Area Business Association and the outcome was amazing. That is why PACC decided to request their assistance again for the Washington Avenue Prospect Heights Association (WAPHA). The work that McMillianCo. produced for WAPHA in a short period of time and their communication process to get things done with efficiency is astonishing. McMillianCo. is creative and pays attention to detail closely. They understand the meaning of branding a community and are clearly team players. It has been a pleasure to work with a staff that are so attentive to our needs as a community group with so many different wants and needs. They just make it all come together so easy, even in a moment's notices.

–Dale Charles, Director of Economic Development & Commercial Leasing Department, Pratt Area Community Council
---