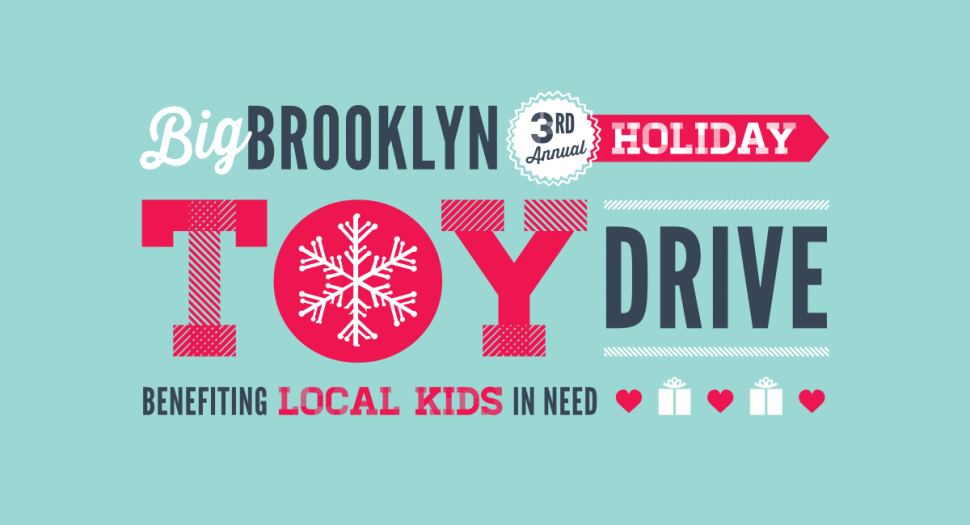 The Big Brooklyn Holiday Toy Drive is an annual event that brightens the holidays for local children in need. Sponsored by Brooklyn businesses and organizations, the toy drive collects toys and donations through the month of December at drop-off locations throughout the borough. It all culminates in the Big Brooklyn Holiday Toy Drive Party, where the cover charge is a toy or donation to the cause. We're proud to have branded and produced all promotional materials for the event since its inception, and 2014 was the toy drive's biggest year ever. In 2014, the drive collected over 5,000 toys – more than double the amount collected during their first two years combined!
This event called for posters, signage, banners, window decals, and social media pieces, so the branding needed to be flexible enough to be applied across all of these platforms. We created a bold, fun type treatment in colors reminiscent of a retro holiday palette. The logo features playful banners and icons, fun design elements which easily translated to the spaces we designed for.
We also designed a website for the toy drive so that all of the information about the event could be easily accessed in one place. This single-page, responsive website included a list and map of drop-off locations, sponsors, and details on the party — including the great raffle prizes offered.
The Big Brooklyn Holiday Toy drive is a great opportunity to give joy and get some back in the spirit of the season. Keep an eye out for next year's event!
---