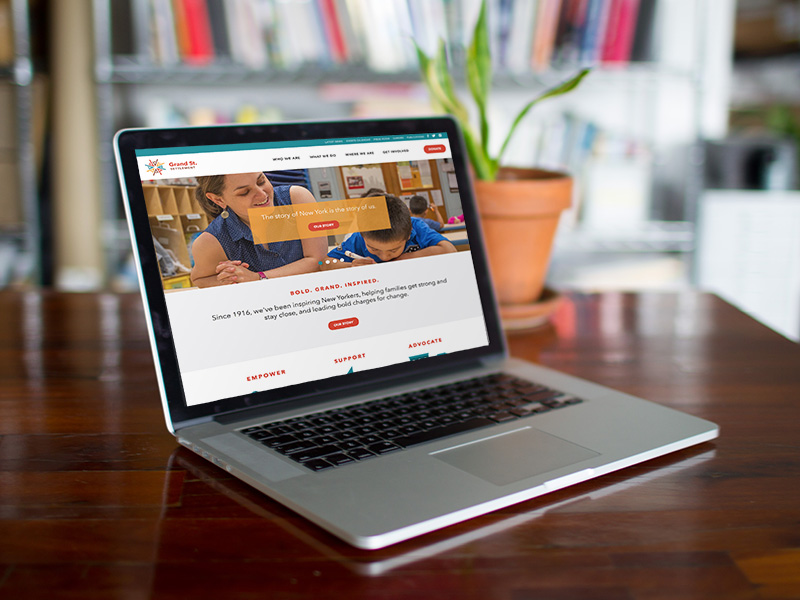 We are thrilled to present our latest website design! We've worked with Grand St. Settlement over the last 4 years, creating award-winning work and collaborating with an enthusiastic team making a real difference in their community. After developing their organization's identity in 2011, as well as redesigning their website, we've continued to work alongside their team branding numerous events and developing creative on a multitude of initiatives throughout the years. It's work we are extremely proud of, and we feel good knowing our talents are creating a positive impact so close to home.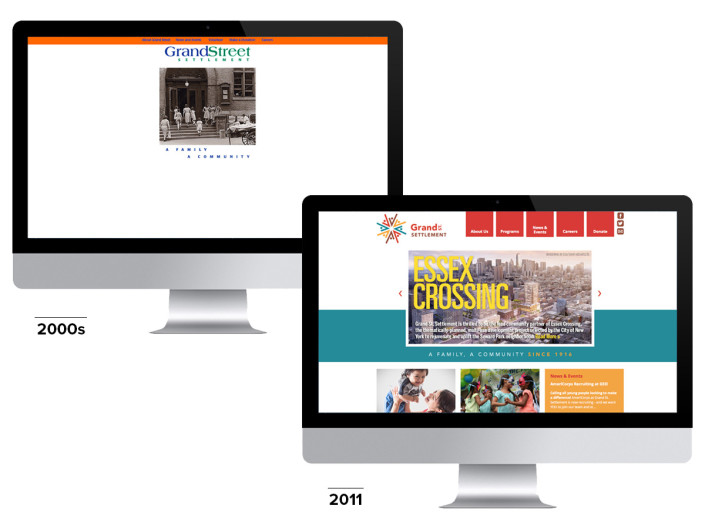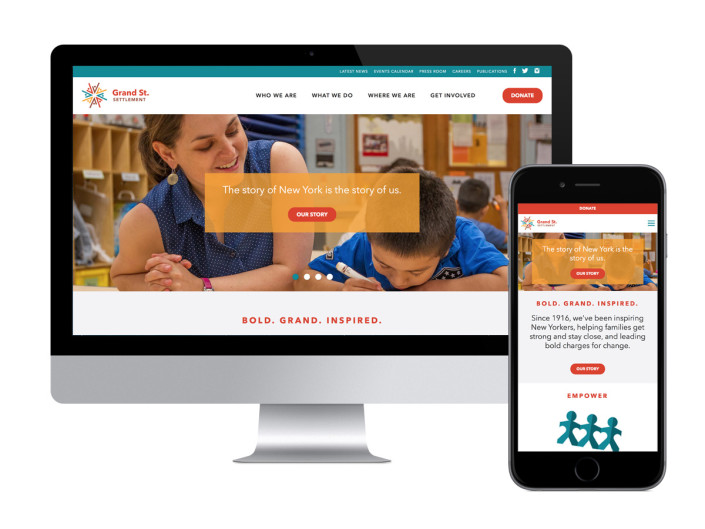 Grand St. Settlement first opened its doors in 1916, connecting New Yorkers to opportunities that inspire, services that keep families strong, and programs that bring communities closer. Working with all age groups across both sides of the Williamsburg Bridge, the organization has created a family that includes generations and ages, and celebrates vibrant cultures and traditions. Redesigning their website was no easy task, as they have a big story to tell, with programs ranging from early childhood to seniors and families. Our goal was to maintain the clean and welcoming aesthetic of our 2011 version,  while incorporating the new content in an organized, easy-to-navigate interface where a multitude of users can find the information they're looking for easily and efficiently.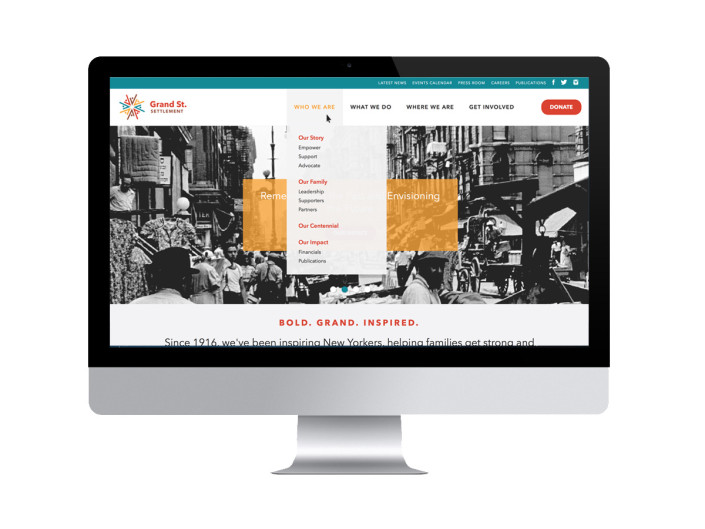 With such a heavy amount of content, our first task was creating a user-friendly navigation that includes a sub-navigation with 2 tiers. The fixed navigation header follows the user while scrolling though the website, working well with the longer content pages like the home page.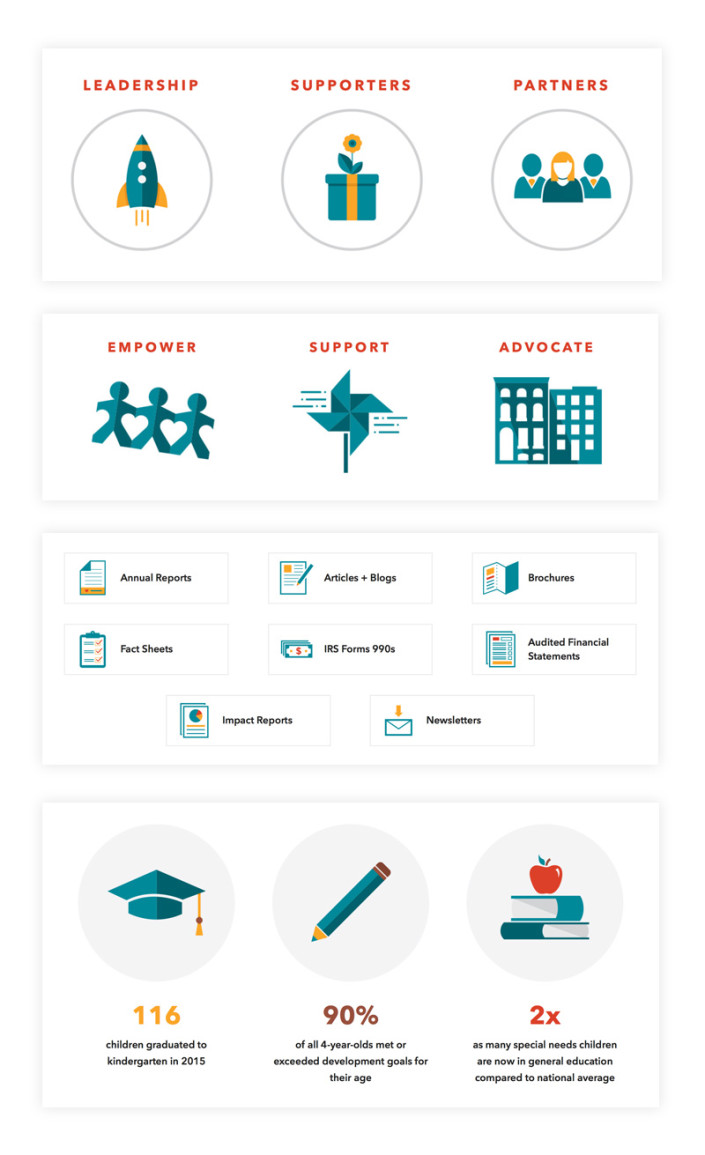 Incorporating iconography throughout the website really helped to illustrate their mission, impact and story, while breaking up the compelling copy. Introducing prominent photography helped bring the website to life, as all of the photographs (event the historic shots) are real people taking advantage of the organization's many programs and services. It was a conscious decision to stay away from any stock photography, as we wanted to ensure the genuine feeling of Grand St. Settlement.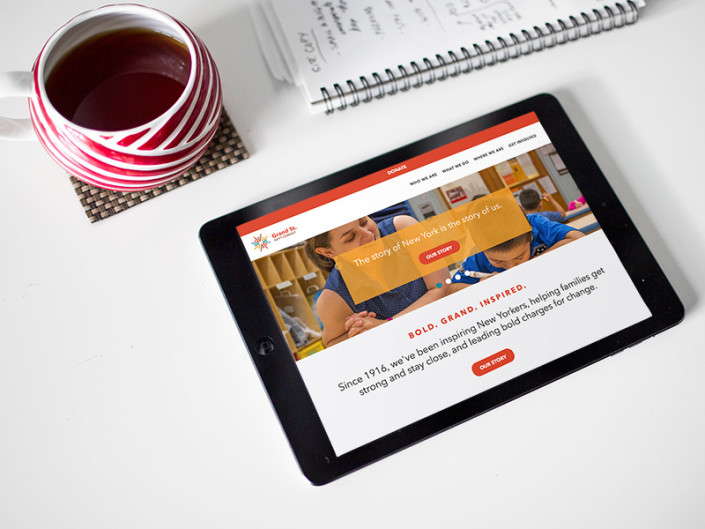 The website includes a wide array of features, and is built on a user-friendly CMS allowing the internal team at Grand St. Settlement to update their content regularly. The site is fully responsive, including an alternate layout that adapts to tablet and mobile devices.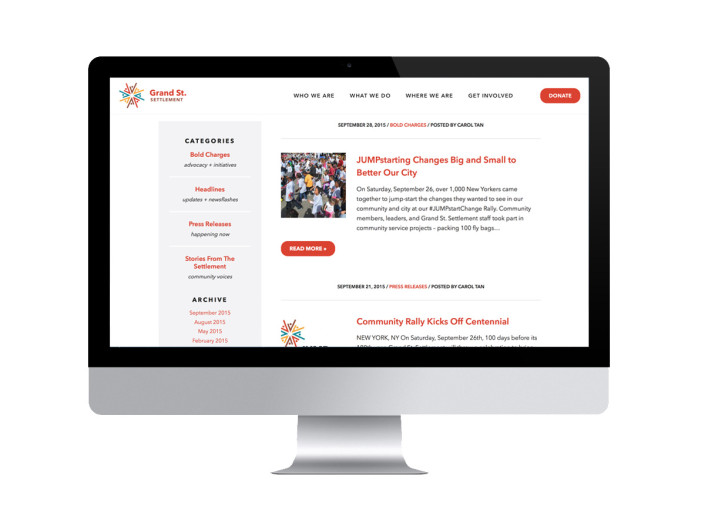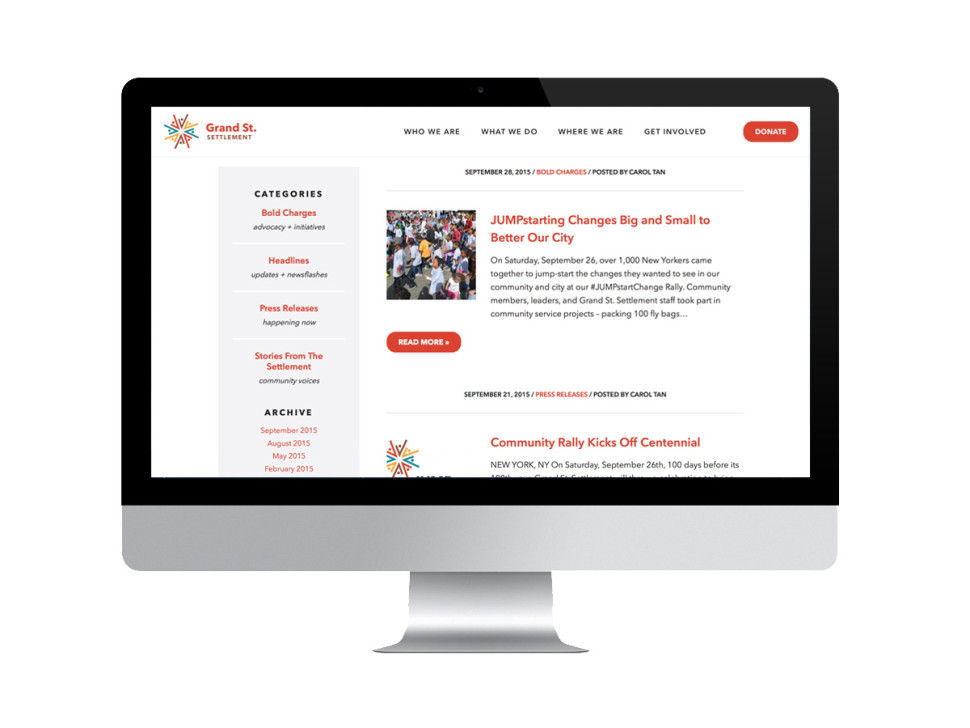 The brand new blog includes categories to help organize their content and target specific audiences with newsletter mailings. Grand St. Settlement's social media feeds are prominent here in a sidebar, as well as throughout the website. One of the many goals of their new website is to push their online presence, and inspire their network to get involved in the conversation on social media to help #JUMPstartChange.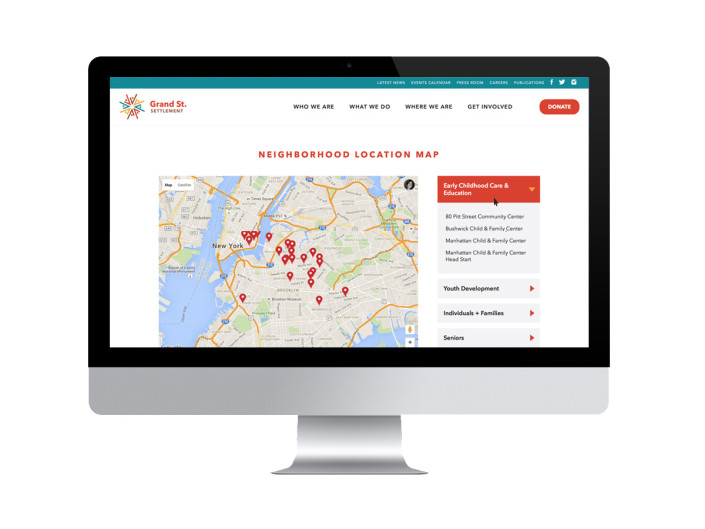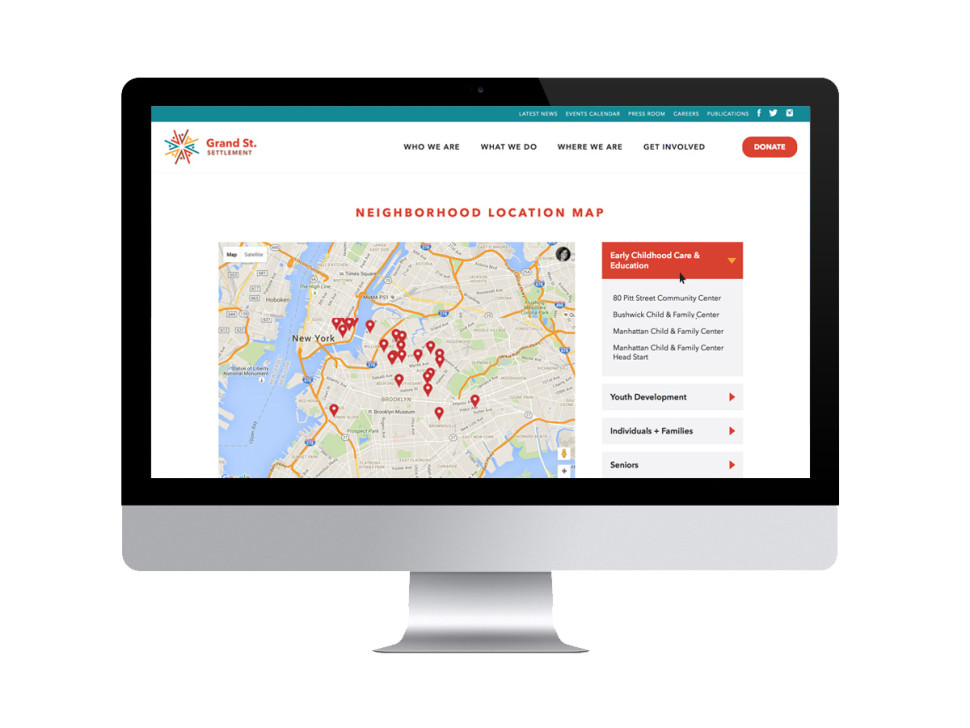 Because the organization serves thousands of New Yorkers in numerous locations throughout Manhattan and Brooklyn, we've developed a neighborhood map that organizes the locations by their specific programs, allowing the user to easily navigate through their many locations and program areas with an accordion drop-down menu. Each location features the address, phone number and its specific operating hours.
The events calendar is a useful tool for the team to utilize, as events across their many locations now have a central location. Each event features a Google Map to pinpoint the location and an "Add to Calendar" feature that easily allows the user to sync the event with their personal calendar.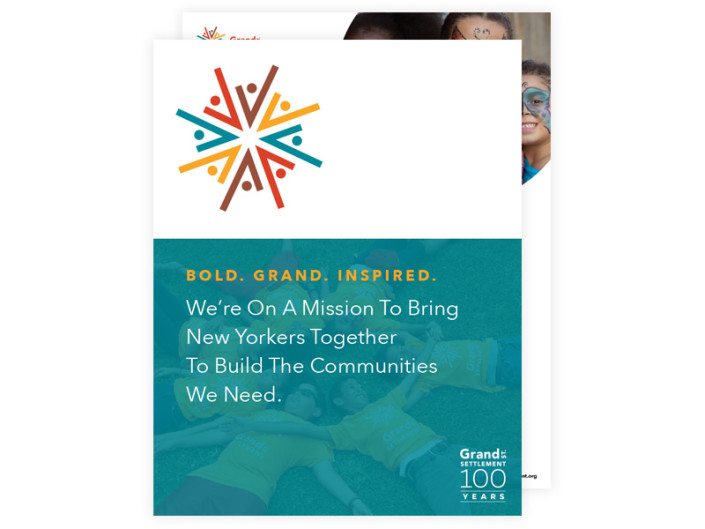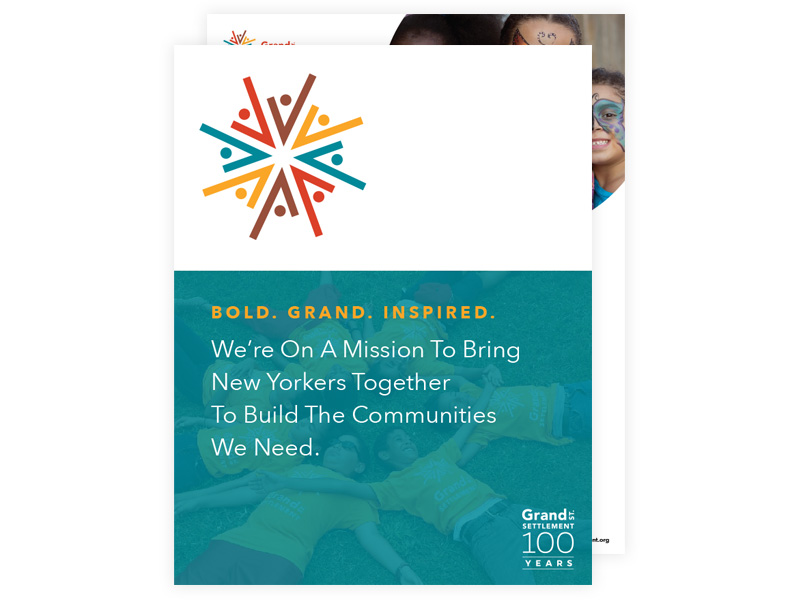 There is now a wealth of resources within their press room and publications pages, including a beautiful Media Kit we created, photography, logo downloads, press, useful links, impact reports, financial information, brand guidelines, etc. We even included a plugin to pull Grand St. Settlement's YouTube videos directly from their channel onto the page.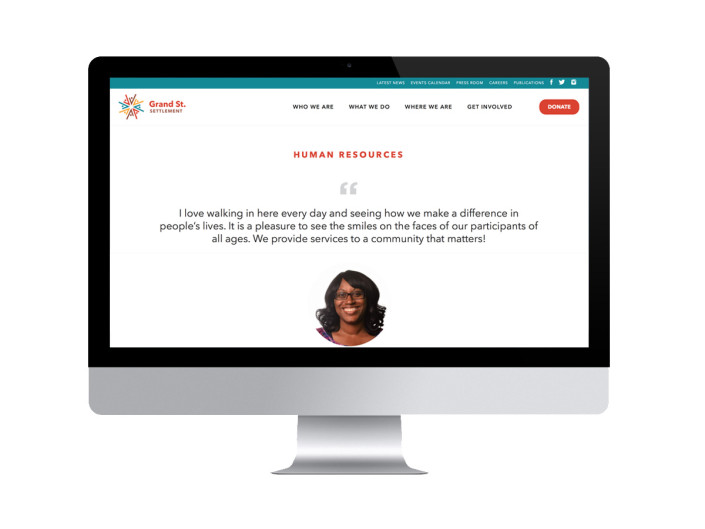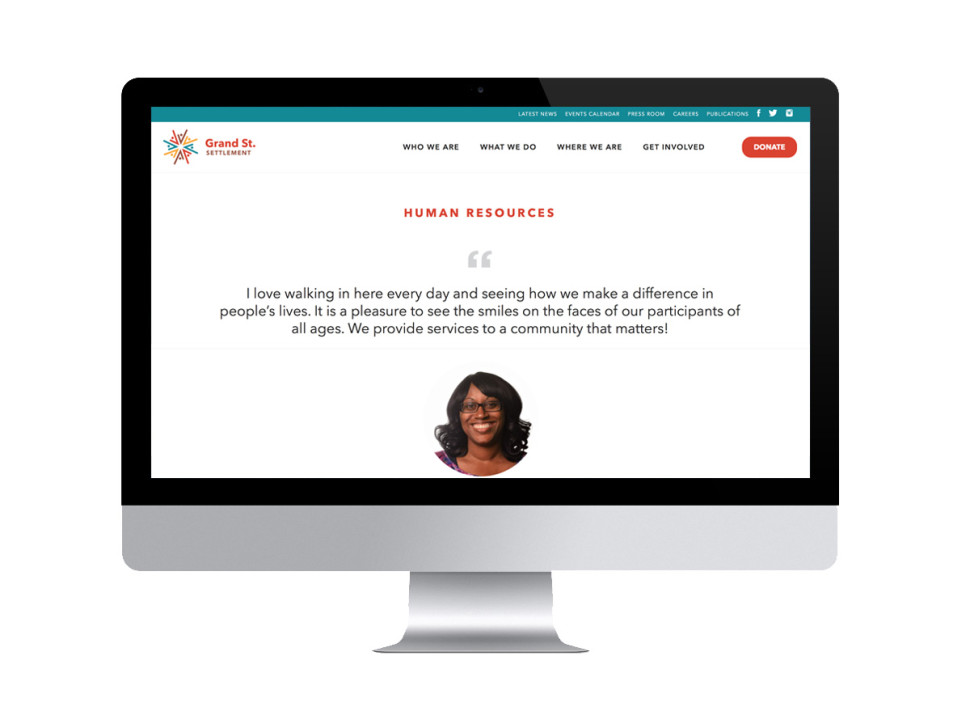 Bringing in personalized features, such as quotes from team members within the organization on the careers page really brings out the heart and soul of Grand St. Settlement. It's always a challenge to visually represent an organization that is making such a positive impact on the world in so many different ways, but we're always up to the test. We're incredibly proud with the results, and we're happy to have heard such a great deal of support and kind feedback.
With their shiny new streamlined website, Grand St. Settlement is moving boldly and confidently into their Centennial year. We're excited to have been a part of their growth as they move into such a special year, and we look forward to future collaborations.