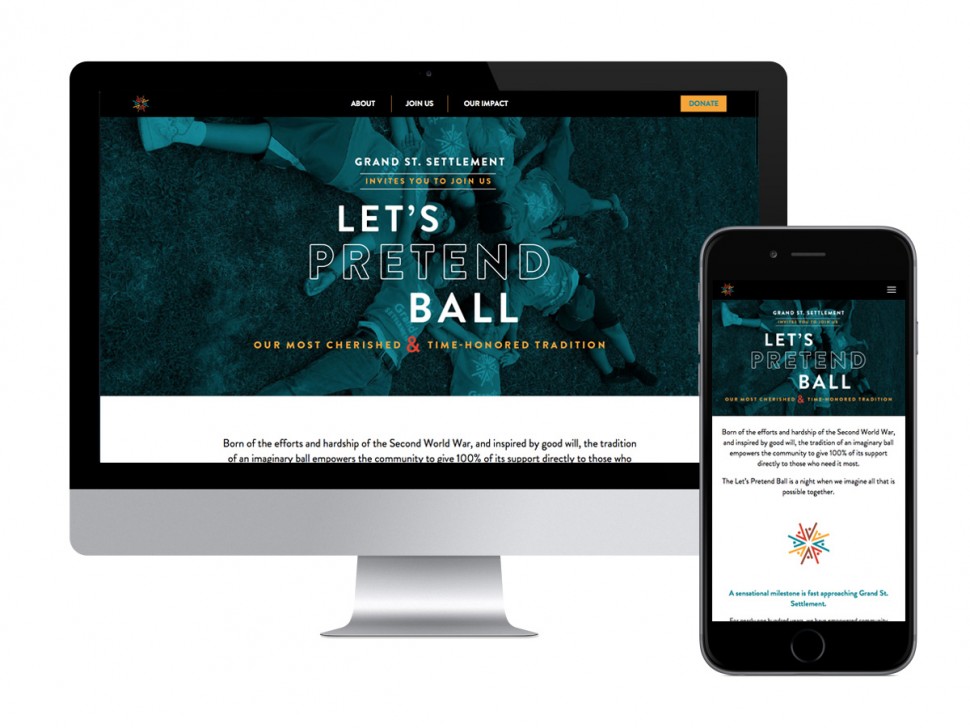 The Let's Pretend Ball is an annual event supporting the communities served by Grand St. Settlement. The unique tradition of the make-believe ball originates from the good will efforts surrounding World War II. All proceeds from tickets purchased for this pretend gala provide opportunities and resources for thousands of low-income New Yorkers living on both sides of the Williamsburg Bridge. 

In designing the identity for the 2014 event, we used vibrant photography to focus on the people and communities who benefit from the ball. We created a single-page, responsive website with parallax scrolling to share the important work Grand St. Settlement accomplishes, with a clean layout in the brand's brilliant colors.
Using jQuery, we developed an interactive timeline highlighting the rich history of Grand St. Settlement, which will soon be celebrating its centennial anniversary.

Also included are infographics we created, providing a further look into the results GSS has achieved.

For us, being involved in this impactful project for our local communities is a great honor. We thank Grand St. Settlement for their impressive 100 years of service and all the important work they continue to do for their communities. Visit LetsPretendBall.org and join Grand St. Settlement in creating a difference that's anything but imaginary.
Grand St. Settlement is so fortunate to have found the team at McMillianCo. Their dedication and commitment to creative and resonant design is matched only by their enthusiasm for giving back. Everyone on the team gives their time, talent, and complete attention to not only our projects, but also to our mission and impact. From our agency brand and identity to our programs and events, McMillianCo. continues to bring effective strategy and thoughtful design to make a strong impact through online platforms and in print media. Thanks to their work, Grand St. Settlement is creating a bigger difference in our community.

– Elise Hanks, Development & Communications Associate at Grand St. Settlement
---