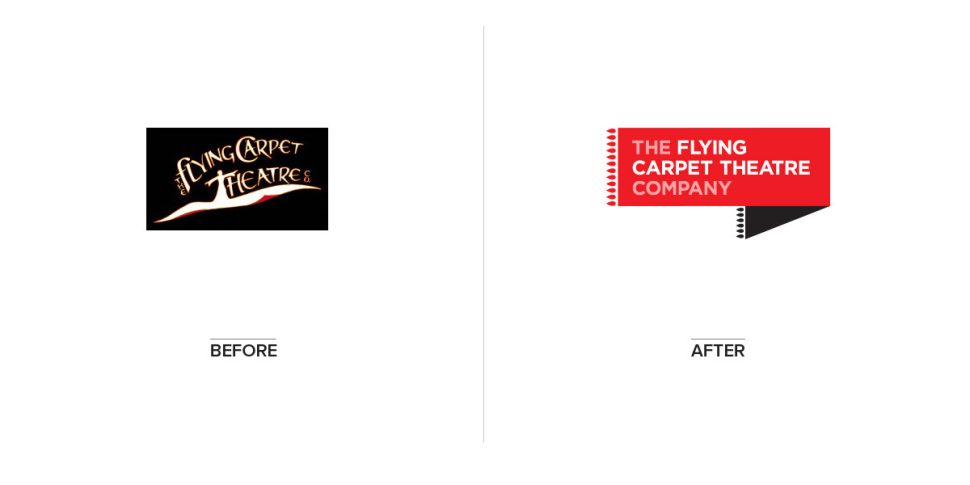 Based in New York City, Flying Carpet Theatre Co. is an award-winning non-profit theatre arts organization that uses inventive staging to conjure timeless stories, transporting audiences to unexpected places where they can experience our modern world from a fresh vantage. They came to us for a brand refresh, and we were so excited to take on the project.
The original logo was a literal interpretation of the company name, and it needed an update. When devising this logo, we considered creating something that spoke to the vaudeville elements of FCT's productions. However, the final product is a much more streamlined solution. Using bold, san-serif type in the geometric shape of a folded, tasseled carpet, this logo is bold and highly distinctive without detracting attention from the pieces it's applied to.
From there, we designed their business cards, stationery, and promotional materials. We also did a complete redesign of their website on WordPress in 2015. The site is responsive, SEO-friendly, and organizes the information on the theatre company and their productions in an easy-to-navigate interface. Read more about our process behind the website on the blog.
Flying Carpet Theatre Co. has beautiful photography from their many productions, and we incorporate it into projects as often as possible.
In our many years of working with FCT, we've branded their theatre productions, designed invitations, collateral, e-blasts, and promotional materials for their many events. The vibrant red and type lockups have become Flying Carpet Theatre Co.'s signature. Since we've taken them on as a client, the theatre company has garnered countless awards and recognition for their innovative plays.
McMillianCo. has been providing a wide range of design services for our not-for-profit theatre company for the last three years, from our logo and branding to print materials and our website. Throughout our time with them, their team has been responsive, professional, and quick, all while being sensitive to our limited budgets. Best of all they, have impeccable taste and spot-on aesthetics, and their design work has played an integral part in effectively telling our organization's story.

–Adam Koplan, Artistic Director, The Flying Carpet Theatre Co.
---