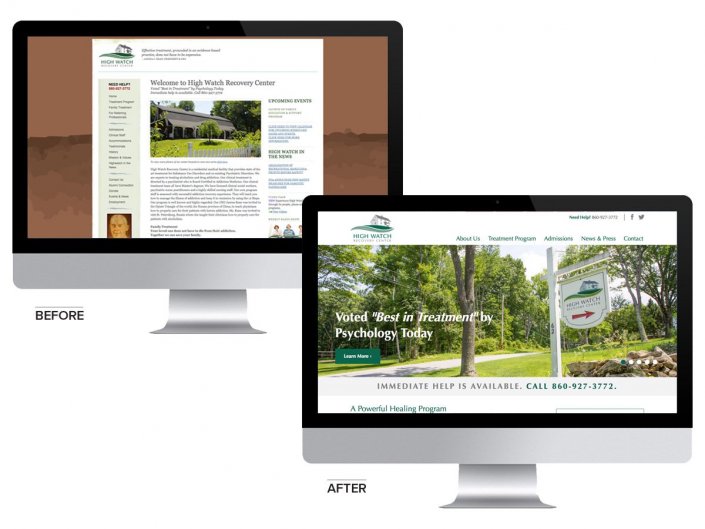 We're proud to announce the launch of the High Watch Recovery Center website!
Established in 1940 as the world's first 12-Step treatment center, High Watch Recovery Center is an historic residential medical facility set in Connecticut's breathtaking Litchfield Hills. Our task to redesign the website was carefully thought-out to honor its reputation and rich history, all while keeping in mind the varied target audience. The process began with a site visit and photoshoot, which really gave us a sense of the peace and serenity in this beautiful sanctuary beneath the Berkshires.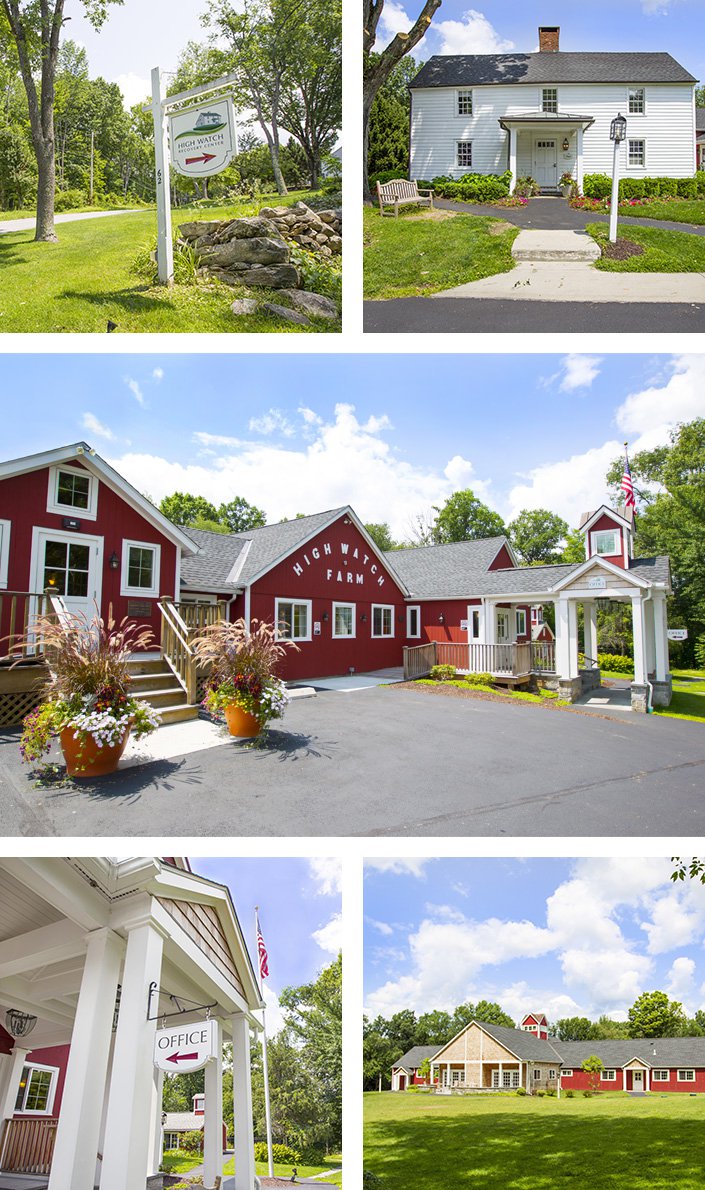 With this new library of photos, and a true sense of the High Watch Recovery Center, we dove into a complete overhaul of the site map and navigation.  The user-friendly mega drop-down navigation element gives users a glimpse into the website from the homepage, while the big beautiful imagery offers a sense of the tranquility of the grounds.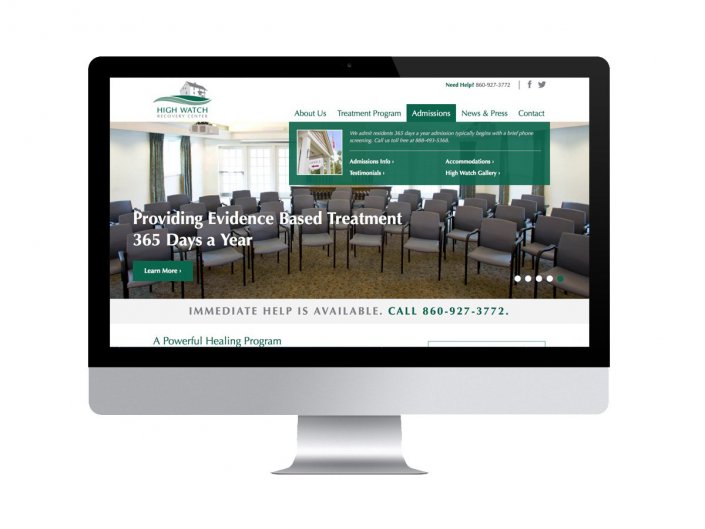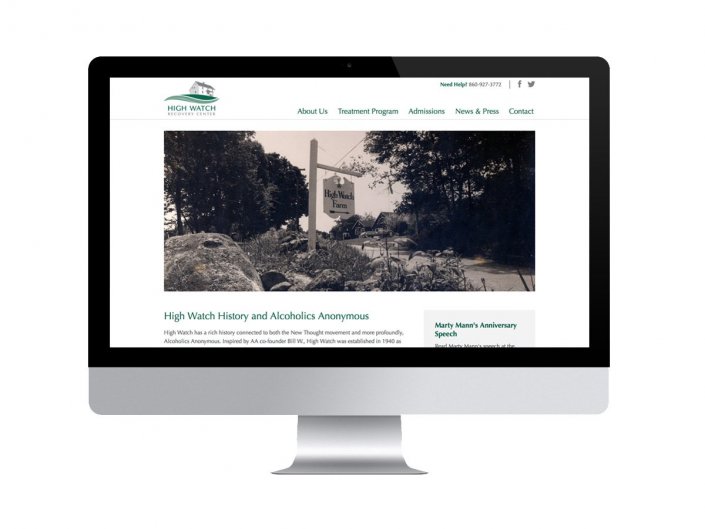 The website is fully-responsive, ensuring an easy-to-navigate experience whether viewed on a desktop computer, mobile phone, or tablet. Developed on the WordPress platform, the client is already taking advantage of the CMS back-end, updating content, events, gallery images and more. We utilized the SoundCloud platform to host the Weekly Radio Show audio files, which integrated seamlessly into WordPress, easing the weekly upload process for the client, and resulting in an attractive front-end solution.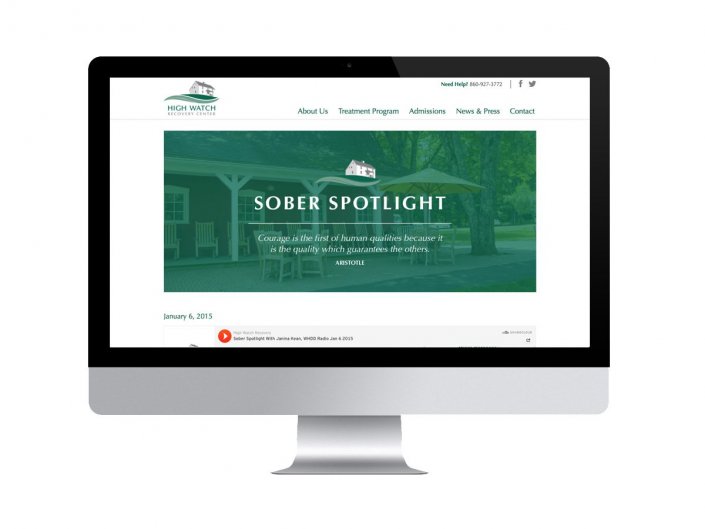 The website features shopping cart functionality with a donation platform and the ability to register for events. Through HTML and CSS styling, this functionality retains a visual cohesiveness within the website experience. Social media sharing widgets, along with an ability to add events to your personal calendar, all add to the user-friendly atmosphere within the new and improved High Watch Recovery Center website.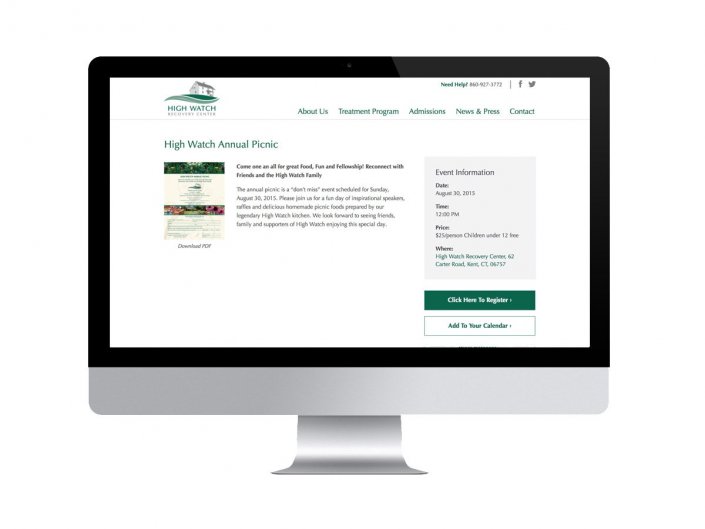 It was an absolute pleasure working with the team at High Watch Recovery Center, and we're excited for the beautiful end result. Visit the full site at highwatchrecovery.com.